Welcome to Football Weblog's Fantasy Football Cheatsheets webpage!
Stop by each Wednesday during the NFL season for updated cheatsheets!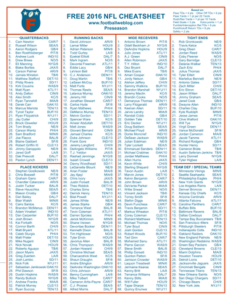 Football Weblog's cheatsheets are based on the following scoring system:
Passing TDs = 4 points
All Other Offensive TDs = 6 points
Passing Yards = 1 point per 10 yards
Rushing/Receiving Yards = 1 point per 20 yards
Field Goals = 3 points
Extra Points = 1 point
Fumble/Interception Return TDs = 6 points
Punt/Kickoff Return TDs = 6 points
Safety = 2 points
Don't be too concerned if your league's scoring system isn't an exact match.  Unless your league uses a strange, eccentric scoring method, player rankings will be relatively consistent even between dissimilar scoring systems.  This scoring system was selected because of its widespread use.
New cheatsheets will be published each Wednesday to provide player rankings for the upcoming NFL week – perfect for helping you choose your starters.  Additionally, weeks 2–15 will include a second cheatsheet page that ranks each player's value moving forward (i.e., each player's worth from the current week through the end of the season) to help you decide roster adds and drops.
Football Weblog's cheatsheets are published in PDF format.  They can be viewed online, yet are pre-formatted to print faithfully on a single standard sheet of 8-1/2 x 11 paper if a hard-copy is desired.
These cheatsheets are powerful tools aimed at bringing success to your fantasy football season.  So good luck to your fantasy football team!  My hope is that these cheatsheets will be the catalyst you need to bring home the Championship Cup!
As always, run to daylight!
~Randy
---
Cheatsheet Links  (Published each Wednesday.  Select a cheatsheet below.)
Preseason
Week 1
Week 2
Week 3
Week 4
Week 5
Week 6
Week 7
Week 8
Week 9
Week 10
Week 11
Week 12
Week 13
Week 14
Week 15
Week 16
Week 17
Wild Card Weekend
Divisional Playoffs
Conference Championships
Super Bowl LII
---