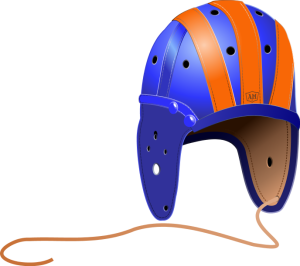 Welcome to the Football WebLog and my first blog post!  I thought a good way to begin my blog would be to tell you a little bit about what I'm planning to cover, and to explain what makes this site unique.  Here goes!
Football is a game of emotion.  If you take two teams equal in talent, the team that plays with emotion and heart will come out on top every time.  That's why schools and colleges hold pep rallies before games.  Pep rallies build excitement, school spirit, and help electrify the team and school body.  The same goes with individual players.  If you have two players with similar talent, the athlete that plays with a fire in his belly will invariably outplay his counterpart.  Emotion is huge in football, as well as in life.
That's the spirit I will try to capture at FootballWebLog.com.  I'm hoping to bring a passion not unlike the pomp and circumstance of the college game.  Think of an autumn day with a cool breeze that foreshadows the frigid winter to come, with a backdrop of snare drums and trumpets echoing through the stadium, and the intoxicating smells of popcorn and freshly mown grass.  It gets a person keyed up just thinking about it.
How am I going to bring that atmosphere to FootballWebLog.com?  By doing that little something extra.  When water is at 211° F, it's just very hot water.  But crank it up only 1 more degree and the water will boil.  When water boils, it makes steam.  You can move a locomotive with steam.
What specifically am I going to cover?  Some of the ideas I'll share will revolve around fantasy football:
Do you need a cool name for your fantasy football franchise?  I'll give you some food for thought in choosing a moniker that will become the favorite of Cam Newton's mom.
I'll show you how to create a professional looking team logo for your fantasy football franchise, and how to use that logo for making awesome banners, avatars, mini-helmets, and etc.
I'll teach you some basic statistics for preparing scatter plots and linear regression analyses to out-do the pros in determining starters or player adds for your franchise.  (Don't let those statistical terms scare you.  I promise to make it easy and fun!)
There are no standard fantasy football rules, so why limit your league to humdrum regulations?  I'll introduce you to fresh rules that will lift your league to new heights.
But this website will be more than fantasy football.  I'll share with you a world of engaging football minutiae and facts:
Are you into football cards?  If not, I'll explain why you should be, and how to create impressive subsets that reflect your football ideals.
I'll take a look at some realistic football action figures to doll up your man cave or office desk.
Curious about the history of football?  I'll take a look back and share with you the roots of the game.
Get stickers, posters, and football cards from your favorite NFL team, oftentimes for free.  I'll show you how.  (Who doesn't love getting stuff in the mail?)
Along with everything else, I'll keep my eyes and ears open for late breaking football news.  Having the Viking's training camp in town will give me an edge on news from the Purple.
Well, that will do it for my first post.  I hope I've whetted your appetite.  I'd love to see you become a regular visitor.  Feel free to contact me if you have any questions or comments, or to simply let me know what's on your mind.
As always, run to daylight.
~Randy
Related Posts You'll Like: