We're in the middle of a football drought this time of year.  Football season is months away.  To make it worse, spring is having a late start this year (at least where I live in Minnesnowta), so there's not even nice weather to enjoy outside.  That makes it a perfect time to kick back with a great football novel.  But that begs the question: Which fictional football novels are the best?
A couple of years ago, I found myself on an apocalyptic book kick.  Apocalyptic books are great.  The Twilight Zone is one of my favorite TV series of all time, and when you find a great apocalyptic book, it's like enjoying a marathon episode of The Twilight Zone that lasts for weeks.  (Yeah, I'm a slow reader.)  When I first became turned on to apocalyptic books, I decided that if I were going to read them, I wanted to make sure that I read the best books the sub-genre had to offer.  To accomplish this goal, I did some 'Google searches' for the best apocalyptic books of all time and began to compile a list.
The first thing I noticed in my endeavor was a lack of a consensus regarding which books were the best.  There was a lot of individual bias.  Sometimes there were books listed that I'd never heard of.  To get the gist of a book, I would hop on Amazon.com to read the book description.
Amazon.com is the largest online retail store in the world, and one of the tools they provide that helped to make them the biggest is a customer review feature.  This tool allows customers to voluntarily post reviews of a product they've purchased, and rank a product (such as a book) with one to five stars, with five stars considered the best.  That's when I noticed a novel (pardon my pun) inconsistency: Many of the so-called classic apocalyptic books had poor customer reviews.  That set off the 25-watt light bulb in my head.  Why not sort my book list by Amazon.com customer reviews to determine the best books?  Wouldn't that provide a better way to find some great reads?  So that's exactly what I did – and it worked brilliantly.  The apocalyptic books this method eventually led me to read were awesome.  In case you're interested, click here for the 5 best apocalyptic books that I came up with.
So, for this posting, I set out to find the best fictional football novels of all time using the same method.  To make certain that my sample size was large enough to be statistically accurate, I included only novels that had at least 50 reviews.  In my research, I came up with some conclusions.  The first thing I decided was that the definitive football novel of all time is yet to be written.  No single book stands out above the rest.  There is no Ernest Hemingway in the football novel world.  Further, the vast majority of books written about football are historical and non-fictional.  Adding to this disparity is the fact that many of the few football novels that have been written are targeted for juvenile/young adult readers.  Not that this is necessarily a bad thing, but it adds up to an environment that is not ripe for a superb novel. The pickin's for a great football book are lean, at least compared to other genres.
All that being stated, I feel I can provide you with a helpful and unique list of books.  After scrounging for hours, I found 93 football novels that qualified for review.  Five novels that were consistently recommended as the best were: Semi-Tough, Everybody's All-American, North Dallas Forty, A Fan's Notes, and End Zone.  Interestingly only one of those books made the top five.  Which books made the list?  Without further ado, and saving the best for last, I present you with five of the greatest football novels of all time based on Amazon.com customer reviews.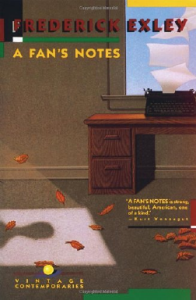 5.  A Fan's Notes, by Frederick Exley (1968).
A Fan's Notes is a fictionalized memoir of the author, which means he's given himself the liberty to stretch the truth here and there.  Exley is the son of a football star, and the central theme of the book is Exley's comparison of himself to the New York Giants, and especially to Giant's running back, Frank Gifford.  Exley recounts his irresponsibility, failed dreams, drinking binges, and time spent as a patient in an insane asylum.  The book is witty and comedic, but in a sad and painful way.  A Fan's Notes is the first book in a trilogy written by Exley.  The other two books are Pages From a Cold Island and Last Notes From Home.  The two sequels are not as highly acclaimed as the first.  From what I've read about them, however, is that they would have garnered more respect if not for the over-shadowing excellence of A Fan's Notes.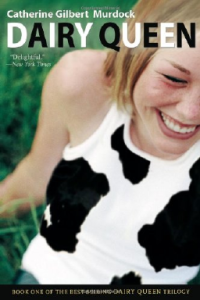 4.  Dairy Queen, by Catherine Gilbert Murdock (2006).
Dairy Queen is not one of the books I expected to find in my top five list.  What does it have to say about the caliber of football novels when a young adult book targeted for girls makes football's best-ever list?  Taking nothing away from the book – I'm sure it's a beautifully crafted novel – but it's a sorry statement indeed.
After her father is hurt, a 15-year old girl takes over much of the work on a Wisconsin dairy farm.  Despite the girl's workload, she tries out for her local high school's football team and becomes the talk of the town.  The book is a humorous, romantic romp filled with great dialogue and authentic, exciting sports action.  Dairy Queen is the first book in a trilogy, with the sequels, The Off Season and Front and Center, garnering even higher reviews, albeit with smaller sampling sizes.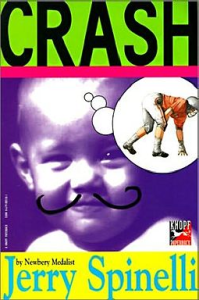 3.  Crash, by Jerry Spinelli (1996).
Crash is another book marketed for the young adult audience.  The story revolves around Crash, a strong and rowdy seventh-grade athlete who loves to spend his time picking on a scrawny vegetarian Quaker boy.  Crash eventually becomes the school's star football player.  As the story develops, Crash begins to realize the debasement of bullying people and playing brutish pranks.  Without it being noticeable, the book delivers a deep, moral message.  Crash is an amusing book with deep character development.  It will make you laugh, yet think.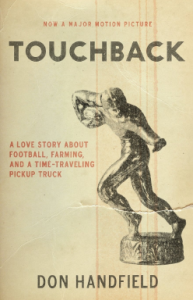 2.  Touchback, by Don Handfield (2011).
This book sounds like it could be a Twilight Zone episode, so the description of the book appealed to me right away.  A young man with a full scholarship to Ohio State breaks his leg in his high school's state championship game.  From there, the next twenty years of his life are a slow downward spiral.  Then a miracle takes place.  The man is given the opportunity to travel back in time and given a second chance to obtain everything he's ever dreamed about.  But what about the devoted wife he would have to leave behind?  Is getting everything he's ever wanted worth giving up everything he's ever had?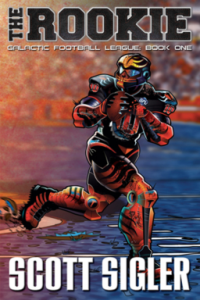 1.  The Rookie, by Scott Sigler (2009).
The Rookie takes place 700 years in the future.  Teams consist of both humans and aliens, and the game has become much more brutal than it is today.  Organized crime runs every franchise, and it's not uncommon for games to be fixed, and rival players to be murdered.  The story follows a 19-year-old quarterback prodigy who has been raised all his life to compete on the field.
The Rookie is the first book in the wildly popular Galactic Football League series.  Other books in the series are also rated very high.  They are: The Starter, The All-Pro, The MVP, along with Title Fight, The Reporter, and The Detective.  Additional books are also in the works.
I'd like to name a few honorable mentions.  These are books that ranked quite high, but did not accumulate enough customer reviews to qualify for the 50-review minimum.  They are:
Facing the Giants, by Eric Wilson.
Deep Zone, by Tim Green (ages 8 and up)
Game, by Phil Truman
Love's Winning Plays, by Inman Majors
Varsity Blues, by Jon Baker
Well, that will do it for this post.  I hope you're able to find at least one book from this list that's whetted your reading appetite.
As always, run to daylight.
~Randy
Related Posts You'll Like: