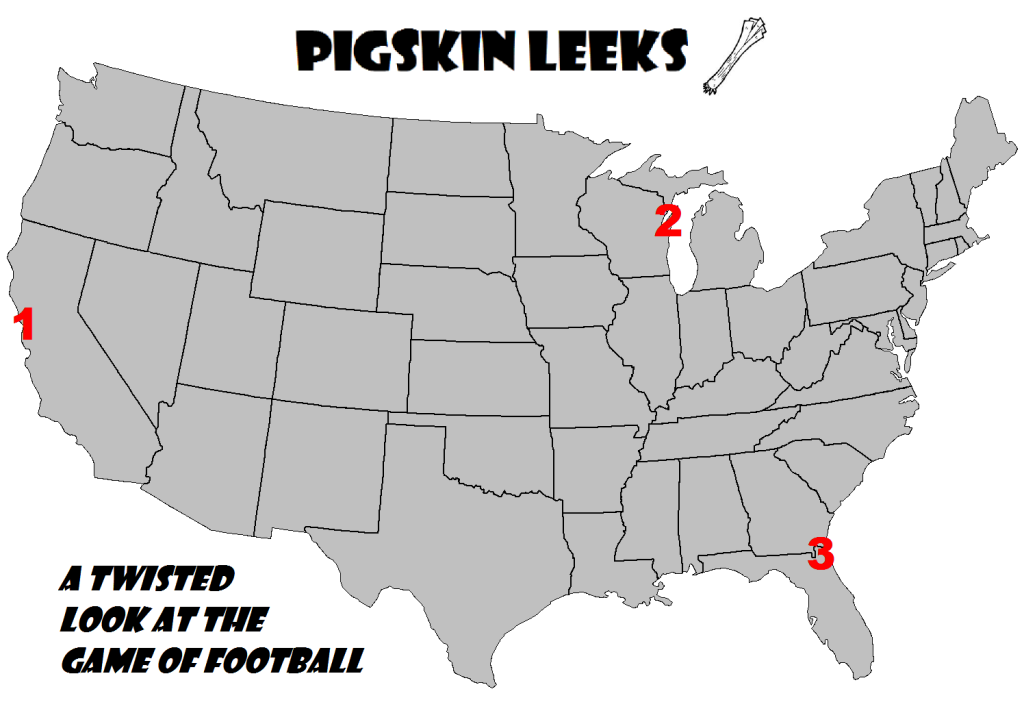 ---
1. ALAMEDA, CA – Jack Del Rio was selected as the new Oakland Raiders head coach based on his physical prowess, so says Oakland's conditioning coach, Paul Ruby.  "The Raiders franchise has nobody on the payroll that's able to evaluate coaching proficiency," explained Ruby, "so we were left with no choice but to use the same qualifications our player talent scouts use when ranking players."  It's common knowledge that 'Speed is King' when searching for NFL talent, and Del Rio impressed the team with the fastest 40-time of all head coach applicants.  He also was able to bench 225-lbs for nearly half of a rep.  Prior to committing to Del Rio, the Raiders courted Raymond Cotter, former player with the University of Missouri.  Cotter holds the NFL combine bench press record with 51 reps in 1999.  Cotter turned down the Raiders offer for head coach stating that he wasn't interested in leaving his Human Resources Clerk position with R.S. Mavis Fashion Wear.
---
2. EUREN, WI – Steven Fry, a senior at Euren High School, and starting quarterback for the varsity football team, has started a petition to change the school's mascot and team colors.  "I'm tired of the 'pee' jokes," explained Fry.  "What were the school founders thinking when they came up with the name 'Urge', and made our school colors yellow-on-yellow?  Seriously?  The 'Euren Urge'?  It's insane!"  Fry went on to explain that it's totally embarrassing to be the opposing team in a homecoming game.  "Other teams don't even have to be witty to come up with hilarious slogans to use on their homecoming parade floats, all at our expense."
---
3. JACKSONVILLE, FL – When I entered the Jacksonville Jaguars practice facility, I was feeling down.  I'd had a long week of meeting deadlines and my editor's demanding expectations.  And I'm sure I reflected those feelings in the way I carried myself – head down, a slump in my shoulders, all the while moving in a slow shuffle.  I was meeting with Jaguars head coach, Gus Bradley, to discuss the injury-plagued season of six-year running back, Toby Gerhart.  "It's true that Toby had a down year on the playing field," said Bradley, "but Toby is an integral cog in our machine.  What he brings to this team goes beyond on-field production.  The guys in the locker room love him to death."  Bradley explained how the other players on the team enjoy messing with him.  Bradley laughingly tells the story of how Jags linebacker, Telvin Smith, keeps a length of 2×4 lumber close at hand.  "Sometimes when Toby isn't looking, Tel will whack him solidly in the small of the back, or across the side of the head.  It's great fun", says Bradley.  "He's such an easy target for practical jokes and slapstick humor, and he just never catches on.  Here, let me show you."  Bradley quickly takes some 'eye black' – the goop football players put under their eyes to reduce the glare – and spreads it over the end of an empty toilet paper tube.  "Hey Gerhart," Bradley yells across the room, beckoning Gerhart to come over, "check out my cool spyglass!"  Gerhart limps over, closes one eye, and peers through the tube.  "Dumb ass," Bradley chuckles under his breath.  I have to admit, it certainly brightened by day.  I left the Jags facility with a smile on my face and a spring in my step.
---
---
Related Posts You'll Like: